Event date:
Tuesday, September 19, 2017 - 7:00pm
Featured Book:
Eat Like Walt: The Wonderful World of Disney Food
Santa Rosa - North Bay food personality Smothers' newest book explores the food legacy of the legendary Walt Disney. Although Disneyland opened in 1955, its culinary history dates back to 1923, when Walt Disney first arrived in Hollywood. Walt was a simple eater, yet a big dreamer. By 1934, four years before his first feature film, Snow White and the Seven Dwarfs, would be released, Mickey Mouse had made him famous enough to have a recipe published in Better Homes & Gardens magazine. Food choices continued to play a pivotal role in the Disney theme parks. Eat Like Walt explores the lore of each section through its cuisine, beginning with Main Street, U.S.A., to Tomorrowland, set in futuristic 1986, a year Disney would not live long enough to see.
Event Location:
Montgomery Village Store, Santa Rosa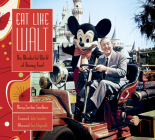 $35.00
ISBN: 9781484782293
Availability: Available online. Call stores for local availability.
Published: Disney Editions - September 19th, 2017
---