Event date:
Tuesday, November 1, 2016 - 7:00pm
Petaluma - It's laugh-out-loud fun for the whole family with this Caldecott Honor-winning, New York Times-bestselling children's author. Here, the magic word is "Alakazoomba!" — or at least, it's what the amped-up protagonist says to summon the cookie that his babysitter won't let him have if he doesn't first say the real magic word. With his newly discovered magical wish-granting word, Paxton sics a walrus on his babysitter, drops a swimming pool smack dab into the middle of the living room, and summons an elephant for good measure, much to the chagrin of his parents. Barnett's book is a subversive take on the topic of manners that still manages to deliver a message about human decency.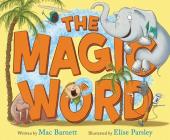 $17.99
ISBN: 9780062354846
Availability: Available online. Call stores for local availability.
Published: Balzer + Bray - October 4th, 2016
---