Event date:
Tuesday, April 18, 2017 - 4:00pm
Petaluma - Escargot is a beautiful French snail who wants only to get to the delicious salad at the end of the book. But when he gets to the salad, he discovers that there's a carrot in it… Oh no! A charming, funny, interactive picture book that is ideal for picky eaters and animal lovers alike.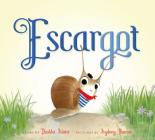 $16.99
ISBN: 9780374302818
Availability: Available online. Call stores for local availability.
Published: Farrar, Straus and Giroux (Byr) - April 11th, 2017
---