Event date:
Thursday, October 12, 2023 - 7:00pm
Featured Book:
Pistachio: Savory & Sweet Recipes Inspired by World Cuisines
PETALUMA --
Copperfield's Books is thrilled to welcome Georgeanne Brennan and Robert Holmes to Petaluma in celebration of their beautiful new cookbook - Pistachio: Savory & Sweet Recipes Inspired by World Cuisines
The discussion will be followed by a Q&A and book signing.
This event is free and open to the public.
From prolific James Beard Award–winning author Georgeanne Brennan, along with Barbara Bryant, the first cookbook devoted to the versatility of the pistachio nut, featuring 60 sweet and savory recipes
Pistachio: Savory & Sweet Recipes Inspired by World Cuisines celebrates the striking flavor of the jewel-like, delectable nut. With over sixty recipes, authors Barbara Bryant and Georgeanne Brennan draw inspiration from the culinary traditions of Turkey, Iran, Afghanistan, North Africa, Italy, Greece, Spain, France, and the Middle East, giving the dishes a contemporary spin. Serving up a feast of snacks, breakfasts, sides, mains, and desserts—such as Pistachio Flour Waffles with Pistachio Butter and Pomegranate Syrup, Cumin-Roasted Cocktail Pistachios, Grilled Zucchini Skewers with Pistachio Dukkah, Chicken Milanese with Pistachio-Parmesan Crust, Pistachio Butter-Basted Shrimp Tacos, Pistachio Ice Cream Sandwiches, Pistachio Nut Tart, and Baklava with Pistachios—this stunning collection of recipes highlights the taste and flexibility of the pistachio.
In addition to exploring their culinary history and nutritional value, the authors also provide tips on how to toast and store the nut, as well as how to make your own staples, such as pistachio flour, butter, milk, and paste. With Pistachio, you will discover the rich and complex world of flavor that takes this ancient delicacy from the snack bowl to center stage.
With original recipes from author Georgeanne Brennan, PISTACHIO is the third book in a series of beautiful nut cookbooks by collaborators Barbara Bryant, Robert Holmes, and Bay Area book producer Jennifer Barry.
Author: Georgeanne Brennan is a the author of more than thirty cookbooks, including the James Beard Award–winning The Food and Flavors of Haute Provence and her bestselling food memoir, A Pig in Provence. Her most recent cookbook is La Vie Rustic: Cooking and Living in the French Style. She is also the co-founder of L'Apero les Trois aperitif wines, which makes French farmhouse-style aperitifs, located in Winters, CA, where she lives.
Robert Holmes is widely acknowledged as one of the world's finest travel and food photographers. His work has appeared in virtually every major travel magazine, and his more than forty books include the Wine Country Table; Passion for Pinot; Almonds: Recipes, History, Culture; and Cooking with the Seasons at Rancho La Puerta.
Barbara Bryant is the author of The Bryant Family Vineyard Cookbook; Almonds: Recipes, History, Culture; and Pecans: Recipes & History of an American Nut.
Event Location:
Copperfield's Books - Petaluma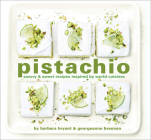 $29.99

ISBN: 9781949480313
Availability: Available online. Call stores for local availability.
Published: Cameron Books - September 26th, 2023
---