Event date:
Saturday, April 4, 2015 - 7:00pm
Calling all San Francisco Giants fans! Come on out to the ballgame! The 2014 Championship game, that is. The San Francisco Giants won their third World Series in five years in 2014, and Championship Blood: The 2014 World Series Champion San Francisco Giants captures the season like no other book does. KNBR Sports Radio's Brian Murphy and Sports Illustrated photographer Brad Mangin re-count the series in words and pictures. Peanuts and crackerjacks and hot dogs too!
---
RSVP for this free event and receive a 20% off the featured book! CLICK TO RSVP
---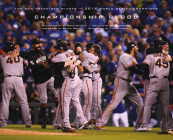 $49.95
Email or call for price.
ISBN: 9781937359799
Published: Cameron Books - April 21st, 2015
---